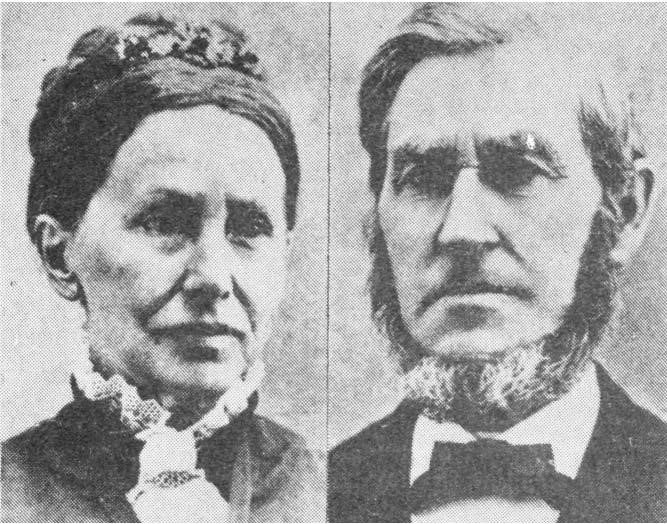 John McLean, Pioneer Dairyman
John McLean, Pioneer Dairyman
Written by David Siegenthaler
Though Elgin's pre-eminence in the dairy industry ended over 100 years ago, there was a time when Elgin was as well known for its dairy products as it was for its watches. One of the earliest and most influential leaders in Elgin's dairy industry was John McLean (1812-81). In addition to his numerous dairy interests, John established an "old settlers" association that held annual reunions for over 100 years; he was a road com-missioner; a township trustee; a school director; a justice of the peace; and an active member of the First Methodist Church. Today his name lives on in the name of one of Elgin's busiest thoroughfares – McLean Boulevard.
John Remer McLean, born August 18, 1812 in Ben-ton, Yates County, New York, was one of seven children of John Armstrong and Jane V. (Remer) McLean. Beginning in his late teens he was active in the Methodist Church in nearby Dresden, serving a total of 11 years as class leader, steward and trustee. On December 31, 1835, John married Caroline Augusta Hurd of Starkey, New York. Caroline, born April 2, 1813, was one of nine children of General Timothy and Mabel (Booth) Hurd. On June 11, 1839 in Benton, New York, John and Caroline had their first child, Jane Missouri ("Jennie").
In the summer of 1842 John joined the great tide of immigration to the West. He first arrived in Elgin in August 1842, and on September 23, 1842, purchased 80 acres of land from the government. His plot of land was defined as the eastern half of the northwest quarter of section 15 in Elgin Township. Following his purchase, John returned to New York and in the spring of 1843 came back to Elgin with his wife and daughter. It is likely that John chose Elgin because his wife Caro-line's sister Jeannette was already living here. Jeannette had married Henry Sherman (namesake of Elgin's Sherman Hospital) and in 1838 they had settled on a large farm about a mile southwest of the McLean farm.
In 1843 John built a log cabin for his family and proceeded to farm his land, raising grain and vegetables. Farming for the pioneers was a precarious and strenuous occupation, due to, among other things, the difficulties in transporting their produce to market.
Though Elgin-area farmers had a large market only 40 miles away in Chicago, in the 1840s 40 miles could be an arduous journey. Hauling grain to Chicago by wagon required three or four days for a round trip in good weather, and often five or six in bad. Roads were often muddy or rutted and prying wagons out of mud and ruts was a back-breaking chore. Lodging costs along the way ate up much of their profits.
On March 25, 1848, John and Caroline had their second child, Mary Jeanette. By now the log cabin was getting crowded and John began building a frame home on their property. It would be completed in 1849, in time for the birth of their third and final child, John Timothy, born December 11, 1849.
In 1851, John's 80 acres was enlarged to about 100 acres when he purchased about 20 acres from his neighbor to the south, Cyrus Larkin. Larkin sold him the portion of his land north of the state highway (Larkin Ave.) which was adjacent to the southern boundary of the McLean farm. The eastern boundary of both farms became the road today known as McLean Blvd. From 1851-92 the McLean farm was bounded on the east by McLean Blvd., the south by Larkin Ave., the north by what today would be the northern end of Hoxie, Sexauer, Triggs and Heine avenues, and the west by what today would be Hoxie Ave. and Jane Drive.
In 1850 the railroad reached Elgin's east side from Chicago, and the following year it reached Elgin's west side. Prior to the railroad, the McLean home, at the southwest corner of McLean Blvd. and Highland Ave., served as a roadside inn for stagecoach travelers on the old Chicago-to-Galena road.
The arrival of the railroad revolutionized farming in the area. Farmers took advantage of the potential the railroad offered for bringing their produce to market in Chicago in a much quicker and more profitable manner. For the first time, shipping perishable fresh milk to Chicago was possible. The first can of milk shipped to Chicago from Elgin was in 1852. By the late 1850s many Elgin farmers, including John McLean, had switched from grain to dairy farming, with a large milk-hungry market now just hours away, thanks to the railroad.
The success of Elgin's milk trade in Chicago encouraged more farmers to jump on the dairy bandwagon and soon the supply of milk frequently exceeded demand. This gave rise to cooperative cheese and butter factories, called creameries, beginning in the mid-1860s. The cheese and butter was sold to Chicago commission men, who would often use deceptive practices to re-sell the cheese and butter at much higher prices than were paid to the local producers. The dis-content of the local dairymen led to the organization of the Elgin Board of Trade in 1872 by the owners of 19 creameries. John McLean was vice president for the first year and secretary for the four succeeding years.
The Elgin Board of Trade was successful beyond expectations. It was dominated by producers, who used it to eliminate the middle man. Instead of sellers trying to find a reliable market, the buyers would come to Elgin. The board not only provided a fair and stable market, it also established rigid grading standards. "Elgin cheese" and "Elgin butter" became as widely known as the New York products, and their excellence was proven by the equal or higher prices they commanded. By the mid-1880s, the Elgin Board of Trade was the monitor to which a large portion of the country looked for prices on cheese and butter. Elgin's central position in the dairy industry reached its peak in the 1890s, when the Elgin Board of Trade had 300 members representing nearly 500 creameries.
In addition to John McLean's five years as an officer of the Elgin Board of Trade, he assisted in organizing the Dairymens' Horticultural and Agricultural Society in the 1860s; he was an active member of the Northwestern Dairymens' Association; he was president of the Illinois State Dairymens' Association two years; and at the time of his death he was president of the Elgin Dairymens' and Farmers' Club.
In the summer of 1868 John and his wife Caroline were invited to a picnic of early settlers in McHenry County. They were impressed with the huge gathering and John was determined to organize a similar event for Kane County. He promoted the idea to many influential Elgin men and got an encouraging response. The following summer the first Old Settlers Association of the Fox Valley picnic was held and it continued to be an annual event in Elgin for 103 years. The last one took place in 1971. John's descendants continued to pro-mote the association and, as late as the 1940s, his grandchildren – Helen Hewitt and Rev. Clare Hewitt – served as presidents.
Among John's other civic services, he was a road com-missioner in Illinois for 11 years and a justice of the peace for eight years. He passed away June 5, 1881 at age 68 of Bright's disease of the kidneys. His wife Caroline passed away at age 82 on June 25, 1895. John and Caroline's first-born child, Jane ("Jennie") (1839-1924), married Darius Hewitt (1833-1907) on November 13, 1862. Darius' parents had moved from New York to a farm west of Dundee in 1839. He and Jennie were among the founders of the Grace Method-ist Church in the early 1880s, and would continue to be among its most active members throughout their lives. Two of their children, Helen Hewitt and Rev. Clare Hewitt, devoted much of their lives to the church – Helen as a missionary in Mexico, and Clare as a min-ister. Their only other child, Mrs. J. Stillman Badger, lived in Australia.
John and Caroline's middle child, Mary Jeanette (1848-1920), married John Howard Kelley (1846-1910) on October 18, 1871. John Kelley had a large farm just west of Pingree Grove where he raised grain, Holstein dairy cattle and thoroughbred horses. He and Mary had five children: Lynn, Jennie, Mabel, Howard and Dwight.
John Timothy McLean (1849-1923) married Ida Kee (1858-1929) on April 6, 1881. Ida, who was born on a farm near Dundee and graduated from Elgin High School in 1875, taught in Elgin public schools before her marriage. In the early 1880s John and Ida were instrumental in the founding of the Grace Methodist Church. John and Ida had four children: Ida Grace McEwan (1884-1960); John Richard (died of cholera in October 1886 at about a month old); Ruth Eleanor (1892-1981); and Helen Hurd (1894-1936). Ida Grace worked at the Gail Borden Public Library from about 1900-20. She and her husband Robert lived in Elgin till 1951, when they moved to Michigan. Ruth was a teacher and an assistant principal at Glenbard High School in Glen Ellyn for over 40 years. Helen worked at the YWCA, the David C. Cook Publishing Co. and, from 1931-36, was the head of reference at the Gail Borden Public Library.
John Timothy continued to operate the McLean dairy farm after his dad's death in 1881. In 1892, however, he sold the 40 acres of the farm lying north of Highland Ave. to H. J. Stelford, a developer, who subdivided it and placed it on the market as the Columbia Park Addition. By 1910 the McLean farm was reduced to about 20 acres after several more small pieces were sold off. John Timothy died June 24, 1923, at his home, "Willowmac," in the same room in which he was born. The home continued to be occupied by members of the McLean family until 1951. In 1998 the 149-year-old McLean family homestead was razed. In 2003 an Amcore Bank (now BMO Harris Bank) was built on the site.
Acknowledgments: Mike Alft's books and news-paper articles; "Autobiographies of Fox Valley Pioneers" (1981); obituaries; Kane County Clerk's website; Kane County histories; city directories; Kane County Recorder's website; Elgin Township plat maps; etc.