Orlando Davidson, Pioneer Banker: Part 1
Orlando Davidson, Pioneer Banker: Part 1
Written by: David Siegenthaler
Though Orlando Davidson (1825-1899) was intimately involved in Elgin's financial, business, educational, religious and social affairs during the last half of the 1800s, he is perhaps best known as the son-in-law of Elgin founder James T. Gifford. Orlando married Caroline Gifford (1827-1890) and moved into his father-in-law's "Stone Cottage" in 1854, four years after James' death.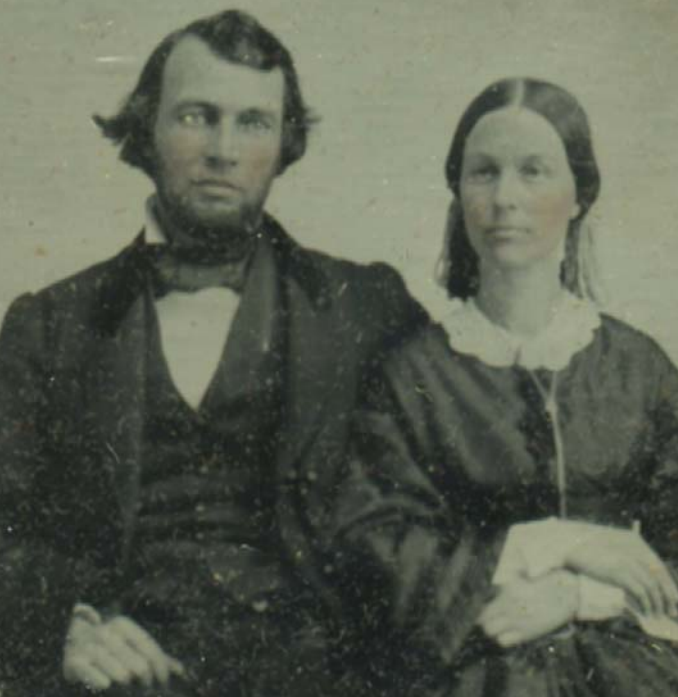 In 1855, after ten years of banking experience in Chicago, Orlando opened a private bank in Elgin. In 1860, having survived the financial panic of 1857, he built a 3-story brick bank building on the current site of the Tower Building. The bank closed with the outbreak of the Civil War but was soon reorganized under state law as the Home Bank in 1861, with Orlando as president. It was federally-chartered in 1872 as the Home National Bank. In 1877, during another financial panic, the Home National Bank failed. Orlando pledged his entire estate as security for the creditors. He was able to recoup his property and all depositors received their money in full, but he resigned as president, having had enough of the uncertainties and stress of the banking business.
The Elgin Academy, a dream his father-in-law originated but never saw realized, became a priority for Orlando once he moved to Elgin. He served as Elgin Academy trustee and secretary of the board from 1854-99 and treasurer from 1865-1888. He watched the school being built in 1855-56 and was there when it opened in December 1856. All five of his children were educated there, and one, Laura, returned to teach there. Years later, Laura and her husband, Nathaniel Sears, would become the greatest benefactors in the school's history.
Orlando served as city treasurer in 1856-57; he was Elgin Township supervisor in 1861; he was an alderman in 1866-67; he was superintendent of streets in 1887-88; and he was a member of the school board for a number of years. He was a member of the committee in 1864 that successfully lured the watch factory to Elgin, and was one of only four Elgin residents to ever serve on its board of directors. He was treasurer of the Board of Trustees for the Northern Illinois Hospital for the Insane for six years and helped oversee its construction in the early-to-mid-1870s.
Orlando was a longtime secretary and treasurer of the Elgin Packing Co., which he helped bring to Elgin in 1869. He was treasurer and part owner of the Elgin Dairy Co. (later called the Elgin Butter Co.), established in 1870. In 1883 he sold his interest in the firm to William Hintze. He was the first treasurer (1872-73) of the Elgin Board of Trade, which helped Elgin to become the dairy capital of the Midwest.
Following the Civil War Orlando began investing in South Elgin. He bought the east side mill and water power rights and tried to encourage industrial development there over the next 25 years or so. Though he had some short-term successes with a series of foundries, most of his South Elgin ventures were failures, due in large part to a series of damaging fires.
In addition to Orlando's numerous business and civic interests, he was also one of the organizers and officers of the Elgin Scientific and Historical Society; he was secretary of the Old Settlers' Association; and he was president of the Elgin Bible Society. Along with his father and an older brother, he was a fervent abolitionist. In the late 1860s there was a separate school in Elgin for black children but it was sparsely attended. A suggestion to integrate the schools was voted down, though Orlando favored integration.
Orlando and Caroline both came from long lines of Congregational Church members. During the first six years of their marriage they lived in Chicago and became charter members of two Congregational churches. In Elgin, Orlando served 40 years as deacon in the First Congregational Church, as well as 30 years as superintendent of its Sunday School.
Orlando was born May 3, 1825 in Windham, New Hampshire to James Nutt and Lucy (Lancaster) Davidson, one of 11 children. He was descended from William Davidson, a Scotch Irishman from Moneymore, who came to America in 1728, and whose farm is now a part of Lowell, Massachusetts. Orlando's father was a meat packer by trade, and moved his family to Sandusky, Ohio in 1835. In 1851 his parents moved to Chicago, where his father was in the commission business for 12 years. His mother died in Chicago in 1855 and in 1863 his father came to Elgin to live with Orlando and Caroline, where he died in 1873.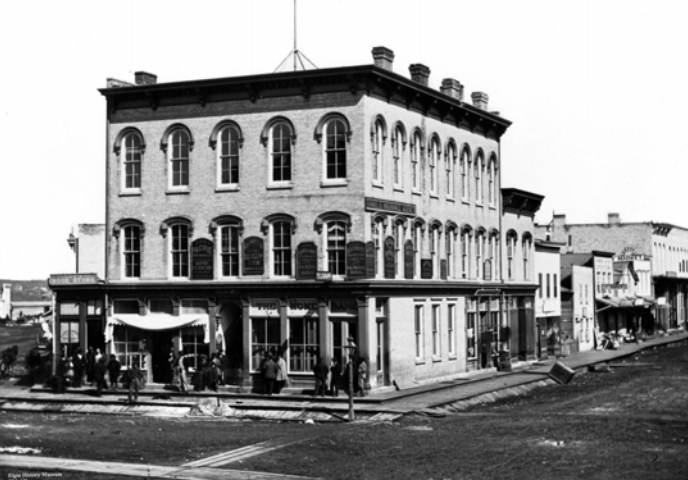 Moving to Chicago in 1844 at age 19, Orlando briefly taught school in the Evanston area. He then took a position in the banking office of Alexander Brand & Co., where he worked for about eight years, followed by two years at Marine Bank of Chicago.
Orlando may have met Caroline Gifford at the home of Caroline's Aunt Louisa Gifford Dyer, wife of a prominent Chicago doctor. Caroline had attended her aunt's private boarding school in the early 1840s and was a frequent visitor there. Dr. Charles Dyer was an abolitionist and knew Orlando through their mutual interest. A February 1847 letter from Caroline's mother in Elgin to her father, who was laying out a new town in Wisconsin, tells of an Abolition convention in Elgin attended by Dr. Dyer and "the two Davidsons." All three had been guests at the Gifford home. Caroline had added a note to her father in the letter, voicing her own enthusiasm for the anti-slavery cause in a flood of superlatives.
In September 1847 James T. Gifford's family joined him in Wisconsin. In late November 1847, Caroline's 6-year-old brother Newton died of an illness diagnosed as measles, followed three weeks later by the death of her 18-year-old sister Lucy. Orlando hastened to visit the family when he learned of the deaths, wishing to comfort them and concerned about the health of the remaining members. Orlando and Caroline were married the following May 26, 1848, on Caroline's 21st birthday, at the new Gifford home near Grafton, Wisconsin.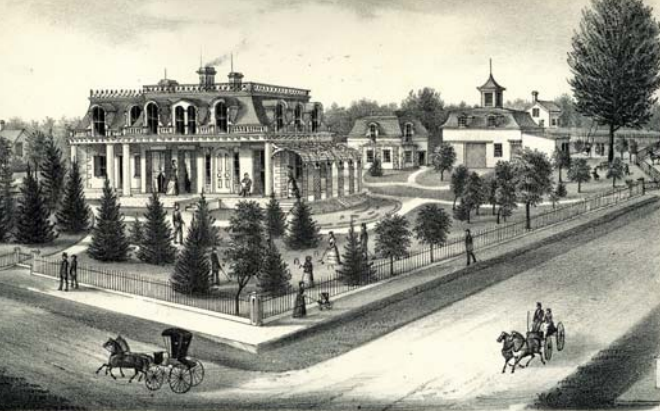 Following Orlando and Caroline's wedding, the couple moved to Chicago, where Orlando was employed in a bank. Caroline's parents, James T. and Laura Gifford, now had lost three members of their family in a six-month period (two died and one got married). Laura had not wanted to leave Elgin in the first place, and now she was longing to return. In the spring of 1849 she convinced James to return to Elgin. The Giffords rented a farm while their cobblestone home on Prairie St. was being built.
James T. Gifford's "Stone Cottage" (363 Prairie St.) was his third Elgin home (following his log cabin, circa 312 Prairie St., and a brick home at 277 Prairie St.). Its original design was inspired by the architecture he had admired during a visit in South Carolina as a young man. Tragically, James T. Gifford died of cholera on August 10, 1850, soon after the home was completed. Orlando was named executor of the estate and by 1854 he and Caroline had bought out the other heirs and moved into the "Stone Cottage."
As seen in the accompanying drawing from 1871, the "Stone Cottage" occupied a full block, bounded by Chapel, Villa, Gifford and Prairie streets. It faced Chapel St. and included a carriage house and servants' quarters. The mansard roof and north wing were not original to the home. After Orlando's death in 1899 the property was sold to developers who parceled the area into building lots and divided the house into apartments. The home still stands and is one of only six cobblestone structures remaining in Elgin. It was placed on the National Register of Historic Places in 1980 and in 1985 became the first home in Elgin to receive a plaque in the citywide historic building plaque program.
To be continued…
Acknowledgements: Mike Alft's books and newspaper articles; Hazel Belle Perry's newspaper articles; Kane County histories; obituaries; etc.