10am – 2pm Crocker Theater Project Work Day
November 2, 2019 @ 3:00 pm

-

7:00 pm

CDT
Thank you to all who came out for our last work day. We moved over 3,000 bricks in just a few hours. We estimate we are at nearly  1/3 of the way done moving the facade. Once the bricks are moved we will start to analyze and categorize the terra-cotta pieces.
More Crocker Theater Facade Work Days Have Been Scheduled!
Sunday 10/27 10am-1pm and Saturday 11/2 10am-2pm
Event Organizer: 
Michael Zimmer
Downtown Neighborhood Association Design Committee
Call or Text 847-347-6957
What will we be doing? As volunteers you would be helping us sort through the pieces of the facade, inventory, re-stack them on new steel reinforced plastic pallets, and wrap them in UV safe plastic wrap. Effectively preserving them until such a time that a use is determined. The DNA Design Committee is currently working on proposals for possible uses.
Where will it be? See the attached map. The work site is located just south of McBride St and Jefferson Ave near the fox river on the Northeast side of the city. Please note McBride street is barricaded and is no longer open to traffic making this site difficult to reach. Please street park in the neighborhood and walk down jefferson and take the bike path south until you see a gravel trail on your left. Follow that to the work site.  Signs will be posted.
or
Park in the Gail Borden Library North lot and walk north on the bike path until you see a gravel trail on your right and follow that to the work site. Signs will be posted.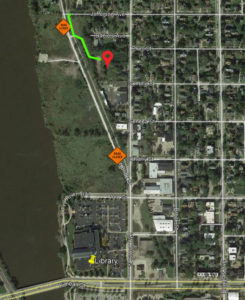 How Should I Dress? We are working on unimproved land, with mud and brush. Please wear steel toe boots or work shoes. Full length pants are a must as are work gloves. The temperature will be in the mid 50's so dress for warmth as well. We will stop work if it begins to rain, but it would not hurt to bring a rain jacket for your trip back to your car.
What should I bring? It is not required but if possible bring a wheelbarrow, steel or plastic garden wagon, or a hand tuck.
What amenities will be provided? Water and a light refreshments will be available. Please note there are no Bathrooms on this site. The nearest public facilities are located at Gail Borden Library. So please plan accordingly.
Do I have to sign a waiver? Yes ALL volunteers MUST sign a liability waiver before participating in this project or to be on site. Waivers will be available in person to sign or you may print and sign the copy attached to this email and bring it with you.
What is the Crocker and why was it saved?
 The Crocker Theater was built in 1923 in the Neo-Classical style by Balaband and Katz Chain (Builders of the Chicago Theater,Uptown, Rivera and More) , with a terracotta facade. It showed silent films, and had up to three vaudeville acts each day throughout the 20's.  It closed its doors in 1981 and has remained closed until was acquired by the city of Elgin in 2000 as a shell of its former self.
In June 2005, the Crocker Theater razed to make way for a condominium development project that ultimately never happened. Thankfully Elgin's dedicated preservationists advocated for the preservation
of front
facade of the Crocker. The facade was removed piece by piece and transported to a city lot on McBride.
Why are we doing this? An inventory does not currently exist and the pieces are not able to be moved under the current configuration. It is near impossible to market and advocate for the use of the facade without an assessment of what is available and proper palatalizing for it's transport. We want the Crocker pieces to be a part of Elgin's downtown again.
Who is running this project? This is a project by the Downtown Neighborhood Association's Design Committee, with assistance from the Elgin Heritage Commission, Elgin Public Works, and the Elgin History Museum.
This project is funded in part through a generous grant from the Elgin Heritage Commission.