2017 Cemetery Walk
2017 Cemetery Walk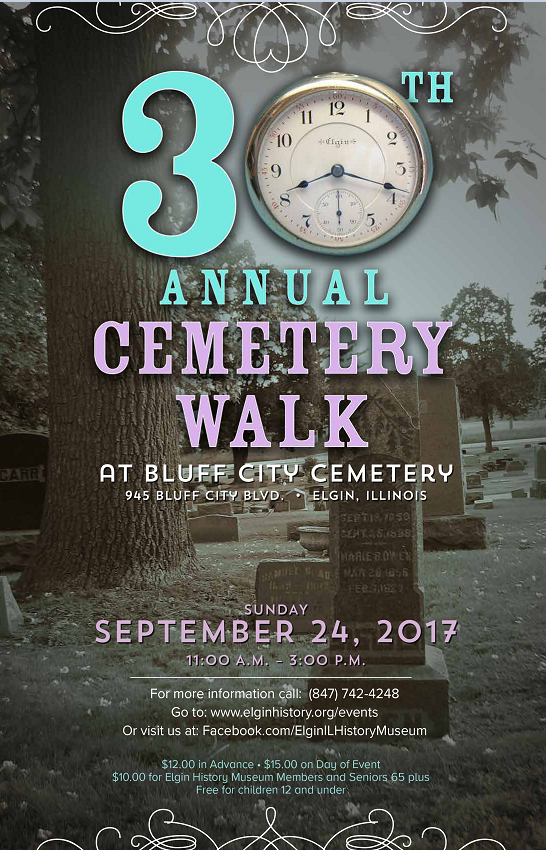 The 2017 Bluff City Cemetery Walk will take place on Sunday, September 24, 2017 from 11am-3pm.
The annual Historic Bluff City Cemetery Walk in Elgin has been a tradition since 1987. The purpose of this event is to provide insight into Elgin's unique history and to eliminate some of the uneasiness associated with cemeteries. The Elgin Area Historical Society organizes this much anticipated event that attracts nearly six hundred people a year. Visitors are generally taken on a 90 minute guided tour through the scenic Bluff City Cemetery to grave sites of former residents, portrayed by actors in period costumes. Visitors will also learn about fascinating lives and various cemetery symbolism all while strolling the expansive cemetery grounds. Visitors to the cemetery walk are encouraged to plan for the weather and wear comfortable shoes. Chairs will be available at each of the vignettes but visitors will be expected to walk and stay with their guide. Cemetery walk guides try their best to speak loudly but they do not carry any amplification equipment.
For the 30th Annual Cemetery Walk on September 24th, come meet some of the people who helped to make Elgin great: Fred Traub, one of Elgin's first bakers; Laura Davidson Sears, a philanthropist for Elgin Academy; Gilbert Snow, inventor of the self-oiling windmill; Lois Wilcox, founder of the Elgin Woman's Club that opened Sherman Hospital; Civil War General John S. Wilcox; and Libby Goll, creator of Resthaven Home for convalescent care. There will also be vignettes.
For those with limited mobility to take the tour, there will be a free bus with an on-board guide. Reservations for the bus are needed in advance. There will also be a small food court with hot dogs, chips, drinks, popcorn and ice cream reasonably priced.
We hope to see you there! Tickets are available starting August 15 at the Elgin History Museum, Ace Hardware on Spring Street and on Lillian Street.
Tickets are:
$12 in advance
$10 for Elgin History Museum members and seniors 65+
OR
$15 the day of the Walk (children under 12 are free)
Tickets are available here.
For further information, call us at 847-742-4248.