Get ready for November 27, 2018
Get ready for November 27, 2018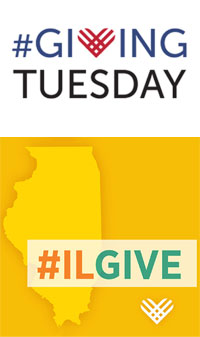 #GivingTuesday is a global day of giving fueled by the power of social media and collaboration.
Celebrated on the Tuesday following Thanksgiving (in the U.S.) and the widely recognized shopping events Black Friday and Cyber Monday, #GivingTuesday kicks off the charitable season, when many focus on their holiday and end-of-year giving.
One of the best ways to get involved is in your own community.
#ILGive (pronounced 'I'll Give') is Illinois' official Giving Tuesday campaign. We're connecting Illinois residents with causes they care about.
#ILGive is a 24-hour digital fundraising event that connects individuals with the causes that matter to them, and empowers donors to give to the local nonprofits that tackle our communities' most critical issues. #ILGive raises money for our communities, brings new donors, and increases awareness about local nonprofits while leveraging the national marketing of #GivingTuesday.
Last year, donors gave $13.4 million to Illinois social good organizations on #ILGive for #GivingTuesday!
On November 27, 2018, donate on our #ILGive page by following this link:
https://www.ilgive.com/organizations/elgin-history-museum