Art Deco Heritage in Elgin portrayed in a video produced in 2016 by Grindstone Productions.
Bluff City Cemetery opened in 1889, and caskets from the Channing Street cemetery were gradually moved to the new site. Those who died before 1889 had a temporary resting place elsewhere—Grave markers with a date of death prior to 1889 were moved, along with the bodies, from Channing Cemetery and reburied at Bluff City Cemetery. Bluff City Cemetery consists of 107.8 acres of land.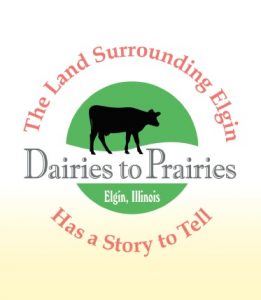 Dairies to Prairies tells the story of Elgin's dairy heritage. The project will also explore how these former dairy farms have come under pressure from suburban development, modern day agriculture and efforts to restore natural prairies.
This story will be presented through a feature-length documentary film and companion traveling exhibit
. This documentary film and traveling exhibit is being created by The Elgin History Museum and Grindstone Productions. Become a fan of the
Dairies to Prairies Facebook Page
to get a chance to see rare photos and video trailers in your news feed.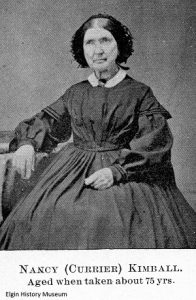 Built in 1846, the Nancy Kimball house is the oldest cobblestone building in Elgin, and one of the last ones left standing at 302 W. Chicago Street. It was built for the widow of one of Elgin's founders, Joseph Kimball by her sons, William and Samuel. The Kimball brothers later served as mayors of the city. This building is unique and important to Elgin as one of the last old architectural styles left in Elgin, with 16 inch thick cobblestone walls, a source of neighborhood pride and a project that promotes architectural preservation and adaptive re-use. If you are on Facebook be sure to like the Nancy Kimball Cobblestone House Project page to keep up to date on the progress of the project.
Project 2-3-1, is a 75- minute documentary film that begins with Civil War "contrabands", who were the first African Americans to Elgin, and continues to the present day. Recent winner of 2016 Best Practices Award from the Association of Midwest Museums, Award of Merit from the American Association for State and Local History , 2015 Alice Smith Public History Prize from the Midwestern Historian Association and the 2015 Image Award from the City of Elgin Image Commission.
"Elgin 100 Years Ago" is an award-winning program featuring articles printed in Elgin's newspapers 100 years ago.
This trip back in time kicks off the morning lineup on WRMN 1410 AM. The program is prepared, researched and recorded by Elgin Area Historical Society members Rich Renner and Jerry Turnquist. David Siegenthaler and retired teacher Larry Drafall have joined Turnquist and Renner in the monthly rotation.