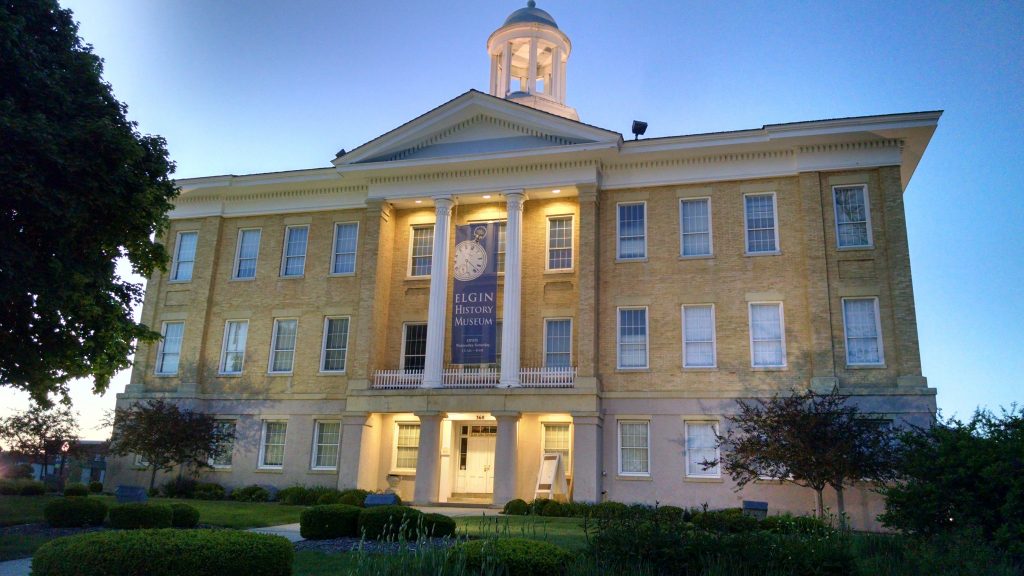 Normal operating hours are Wednesday through Saturday from 11:00am – 4:00pm. For information or to make a research appointment call 847-742-4248 or 
email
.
Admission and Partner Programs
Adult admission is $5.00.  Children under the age of 18, Teachers with ID, and Museum members are FREE. The Museum also partners with various organizations to offer discounted admission. 
The back entrance to the building is mobile accessible. Ring the doorbell or call 847-742-4248 and staff will open the door. The Museum has an elevator that provides access to all three floors.
HISTORIC SIGNIFICANCE
360 Park Street, better known as Old Main, was built in 1856 as a private school open to students of all religious denominations. Joshua Wilbur and Edwin Reeves, who were local craftsman, completed Old Main in the Greek Revival style that was originally designed by J. Quigley, an architect from Buffalo, New York. The first floor of the east wing of the building housed the principal and his family while the west wing was used as a student dormitory. The second floor held the classrooms while the third floor remained unfinished.
ARCHITECTURAL SIGNIFICANCE
This three-story brick and limestone building is in the Greek Revival style, which was popular in the United States between 1820 and 1860. Common elements of the Greek Revival style include a low pitched, gabled roof with triangular pediments; an entrance portico with free standing doric columns; expansive entablature or cornice with dentils, capped with a domed bell tower. The appearance of the building has a striking resemblance to that of the first Iowa State Capital as well as the third Illinois State Capital. In the late 1980's, the building received extensive rehabilitation and was adaptively reused as the Elgin History Museum.
360 Park Street, Elgin, Illinois, 60120
The Museum shares a parking lot with Elgin Academy, a private school located on the grounds. Reserved Museum parking is closest to the building and all spaces are marked with signage.