By David Siegenthaler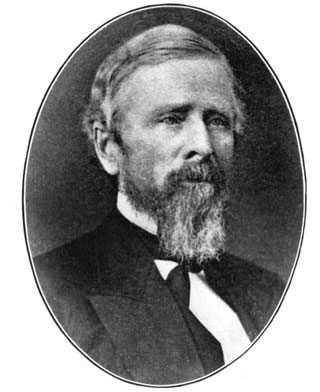 Two unrelated Hubbard families were prominent in early Elgin. William G. Hubbard came to Elgin in 1843 to manage a store and became one of Elgin's most important pioneer merchants. He bought a business lot at the northeast corner of Chicago St. and Douglas Ave. in 1844 and built a store there that was rebuilt three times before it was finally razed and left vacant. He was also instrumental to the success of the first railroad to reach Elgin in 1850, and to bringing Gail Borden's milk condensing plant to Elgin in 1865. His son William became a telephone pioneer in Elgin, not only inventing early versions of the telephone but also bringing the first telephone exchange to Elgin. Augustine Hubbard came to Elgin in 1871 and was a longtime justice of the peace and insurance agent before being elected mayor in 1903. A street on Elgin's northwest side is named in his honor. William Grosvenor Hubbard was born December 1, 1804, in Providence, Rhode Island, to Stephen and Zerviah Grosvenor Hubbard. At age six his family moved to Rome, in upstate New York, where his father was a merchant. William learned the trade and became the owner of a store in Boonville, New York, about About the same time he attended a series of revival meetings and publicly professed his faith in Christ. On June 6, 1828, William married Mary Schuyler of Boonville and the couple had a daughter Mary, born August 9, 1829. His wife died October 14, 1829, and their daughter grew up to marry William Chase, dying in Lynn, Massachusetts in 1865. In 1829 William became president of the local temperance society, whose members were required to pledge total abstinence from all intoxicating liquor.
The severe New York winters were affecting his health so William decided to scout out the Illinois frontier as a possible residence. In 1832 he came to Illinois via the Ohio, Mississippi and Illinois rivers, as far north as the Jacksonville and Springfield area. This was the year of the Black Hawk War and the Chicago area was not yet opened for white settlers. William was favorably impressed and returned to New York, intending to move to Illinois the following year. However, his inlaws were strongly opposed to the idea, so William put his dream on hold for a couple of years. By 1835, William was convinced that he could not endure the New York climate any longer and came to Chicago in May 1835 with his younger brothers Benjamin and Stephen. He found Chicago, with its 1,300 residents, to be a muddy hotbed of land speculators, with merchants who did not respect the Sabbath. Unable to rent a store in a suitable location, William went to Joliet but found business prospects there unsatisfactory as well. He and brother Stephen took a prospecting tour to the vast prairies south of Joliet. Though neither had any farming experience, they purchased a claim along the Vermilion River in Livingston County, near Pontiac. William noted, "we could have all the prairie we wished by paying $1.25 per acre." Following their farm purchase in late 1835, William returned to New York and in 1836 came back to Joliet with his parents and his daughter Mary. In the spring of 1837 the family moved to their farm in Livingston County.
Their first year as farmers, 1837, was successful. They raised corn and other grain and provisions, enough for their own use as well as a surplus to sell. They got good cash prices and had a good market, with the many immigrants in the area. However, a national depression hit the country that year and the next few years were a struggle. On September 19, 1839, William married Charlotte Wright of Lisbon in Kendall County. She was born February 28, 1817, in Rome, New York. Their daughter Harriet ("Hattie") was born September 16, 1840. In the spring of 1841, they left the farm and moved in with the Wright family in Lisbon. In September 1841, William got a job in a dry goods store in Chicago. The family moved to Chicago, where their second child, William ("Willie") was born May 11, 1842. William's wife was a cousin of B.W. Raymond, the Chicago capitalist, who owned a store in Elgin. William had asked for a position in the store in case of a vacancy. After the store manager died suddenly in 1842, William was offered the position and his family moved to Elgin in January 1843. The store was at the southeast corner of Chicago and Spring streets and William remained there as manager for two years. In September 1843 baby Willie died at age one, and two months later young Hattie died at age three. The couple's third child, Henry Wright, was born May 17, 1844; their fourth, Charlotte Julia, was born February 11, 1846; and their fifth and last child, William ("Will"), was born June 27, 1849. Charlotte Julia died in November 1850 at age four.
---
William had his home built about 1844 at 106 N. Spring St. Also in 1844, he decided that it would be a good investment to buy a business lot. He selected a vacant lot at the northeast corner of Chicago St. and Douglas Ave. It was long and narrow, 132 feet by 22 feet, and owned by Dr. Anson Root, who told him that the price was $200. This was just after the whole town plat had been sold by the government for $1.25 an acre. William and Dr. Root worked out a credit agreement and the lot was his. William was then able to quickly have a store built on the lot, thanks to further credit agreements with a brick-maker, lumber dealer, mason and carpenter. The lot was in a desirable location and commanded high rent, which enabled him to get along nicely and pay on his indebtedness. For the remainder of his life, William was able to live comfortably as a business landlord from the rents, though he did conduct his own dry goods store in the building from 1851-1861, retiring due to health issues. The original and second Hubbard buildings were destroyed by fire. The third building, built in 1874, was a 3-story brick structure, nearly fireproof.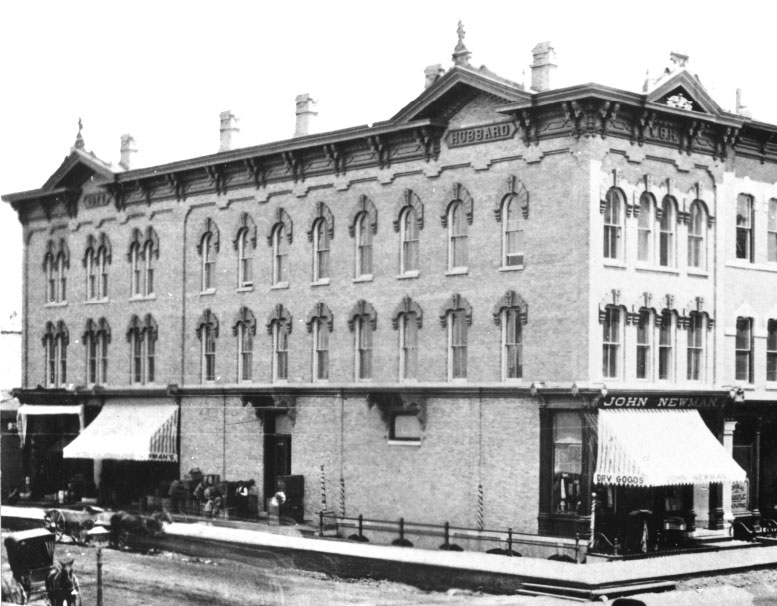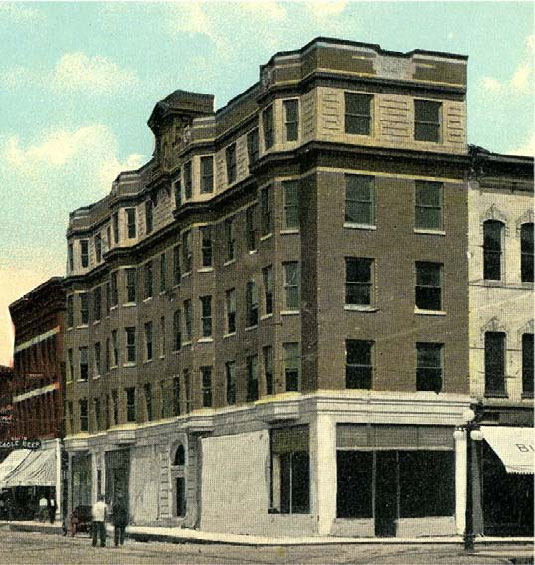 William's son Henry rebuilt the Hubbard building one more time, in 1909-10, when he added two stories. In 1967 the Hubbard building was sold and renamed the Lawyers Building. In 1979 it suffered severe fire damage and was razed in 1980. The site stood vacant for 19 years until 1999 when Kurt Kresmery built a 4-story brick business building on the site. A vocal abolitionist and member of the Kane County Anti-Slavery Society, William received death threats but was not intimidated. He helped draw up resolutions adopted by his church that slavery was a sin not to be condoned. William served 35 years as a trustee of the First Congregational Church. A pair of stained glass windows in the current church building were donated in memory of William and his wife Charlotte, who helped organize Elgin's first women's missionary society in 1856.
Firmly convinced of the necessity of a railroad through Elgin, William became the local agent for the Chicago &Galena railroad in the late 1840s, soliciting subscriptions to their stock. The common roads between Elgin and Chicago, except when dry in the summer or frozen in the winter, were almost impassable. The railroad reached Elgin in 1850 and the local business environment quickly changed. There was now a cash market here for farm products, prompting William to open his own dry goods store in 1851. In early 1865, William became a partner in the organization of the Elgin Milk Condensing Co. He met with Gail Borden in February 1865 in New York and in May the Elgin condensing plant opened in a converted tannery building. Just before it opened, the Civil War ended. The Union Army was the principal consumer of condensed milk and now this market had almost completely disappeared. William welcomed the peace but noted that "had the war continued a few years I should have made all the money I could have desired." To be continued. . .
Acknowledgments: Mike Alft's books and newspaper articles; Kane County histories; obituaries; William G. Hubbard's autobiography, written in 1878, excerpts of which were published in the Courier-News in Aug.-Sep. 1928; Linda Eder (First Congregational Church historian); etc.