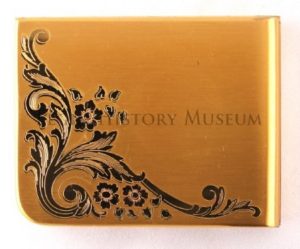 The Museum's collection of over 40,000 artifacts and documents is a vast source for the study of the history of Elgin and the people who call Elgin home. All items relate to Elgin's history from 1835 to the present. In the collection you will find Elgin watches, Elgin American compacts, various dairy bottles, numerous photos, and much more! Search for something specific or use the 'random image' search for a taste of what the collection holds. Please note that not every item in our collection is included in the online database. Contact us if you cannot find what you are looking for online.
Take me to the Museum's online database of photos, artifacts and objects.
Unwatermarked reproductions (printed copies or digital copies) are available for a fee depending on the usage. Please contact us with your needs and we can provide a quote.
Museum Collections on Illinois Digital Archives
Illinois Digital Archives website is a digital collection of the Illinois State Library as well as other libraries and cultural institutions in the State of Illinois. If you would like unwatermarked reproductions of any of these photos – hard copies or digital copies – please contact us for the fee and usage requirements. The Museum has three collections available on IDA:
The Gylleck Photo Collection consists of about 3,500 black and white images of Elgin, Illinois from 1847 to the 1960s. The images in the collection highlight the Elgin National Watch Company, Elgin streetscapes, the Elgin Road Races, manufacturing, homes, schools, and general Elgin life. Gylleck mounted many of the images on matte board and they have notations pasted or written in ink on the back. These notations give more details about the images. Digitization of this project was made possible in part by the Institute of Museum and Library services.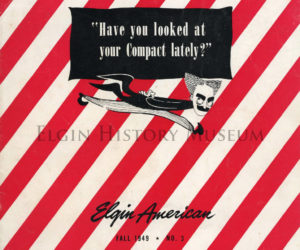 Elgin American Manufacturing was a division of the Illinois Watch Case Company. Elgin American became famous for producing women's compacts, cigarette lighters and makeup vanities. This collection includes company newsletters, catalogs, and photographs. Most of the collection is from the 1940s and 1950s. Digitization of this collection was funded in part by a grant from the Illinois State Historical Records Advisory Board.
Digital scans of Courier News negatives from 1936-1986 with a focus on underrepresented people in Elgin. Also in this collection are negatives from the 1930 that are disintegrating that have been restored. Searching by last name is recommended or last name, first name.  This project was funded by the Illinois State Historical Records Advisory Board and the Institute of Museum and Library Services.
How to Donate
If you are interested in donating items to the Museum's collections please email or call the museum staff first before dropping off or sending items in the mail. The size of all donations must be taken into consideration because of space limitations. The Museum's collections of objects emphasizes 4 areas in scope.
Living in Elgin: Family life, neighborhoods, religious life, recreation, military and education.
Governing Elgin: City government, community organizations, and township maps.
Working and Made in Elgin: Items made in Elgin such as Toastmaster, Elgin Sweeper, Leewards crafts, and the people who worked in Elgin.
Building Elgin: Architecture of Elgin including blueprints, architectural remnants, and photographs of buildings.