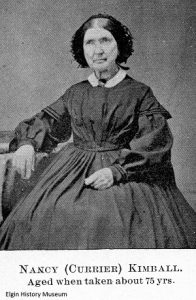 Built in 1846, the Nancy Kimball house is the oldest cobblestone building in Elgin, and one of the last ones left standing at 302 W. Chicago Street. It was built for the widow of one of Elgin's founders, Joseph Kimball by her sons, William and Samuel. The Kimball brothers later served as mayors of the city. This building is unique and important to Elgin as one of the last old architectural styles left in Elgin, with 16 inch thick cobblestone walls, a source of neighborhood pride and a project that promotes architectural preservation and adaptive re-use. If you are on Facebook be sure to like the Nancy Kimball Cobblestone House Project page to keep up to date on the progress of the project. The Elgin History Museum volunteers, board members, staff as well as project partners Near West Neighbors Association of Elgin have a vision of what this house can be transformed into but it will need work! Click here to view the whole Nancy Kimball Cobblestone brochure (PDF). Want to donate? It's easy to make a secure online donation to the Elgin Area Historical Society. All donations will be used on construction to first stabilize the building and then finish the interior. Please note the Nancy Kimball House project when donating. You will be redirected to the PayPal site to make your donation. You do not need a PayPal account to donate. Thank you!
Nancy Kimball House Virtual Rendering Video
Be sure to click around the "room" and experience a 360 view!
The vision and future of this building will be:
A gallery space for exhibition of local history, decorative art and the work of craftsmen.
A work room for hands on demonstrations, community projects.
A venue for education programs serving the nearby schools, as well as adult learners.
A small group meeting space.
A small office space for the Near West Neighbors Association of Elgin and the Elgin History Museum.
---
How can I help the project?
Saving the Nancy Kimball House can be something you can help with by making a donation to the project! All donations will be used on construction to first stabilize the building and then finish the interior. Donations made to the Elgin History Museum are tax deductible. Elgin History Museum is a 501(c)3.