The Promise of Elgin Mural
This mural takes the place of the controversial mural, American Nocturne, that was taken down when its source material was revealed to be a photograph of a 1930 lynching of Thomas Shipp and Abram Smith in Marion Indiana. American Nocturne was on display for about 10 years in downtown Elgin.
This mural was installed as part of Making Space, an initiative organized by an ad-hoc group of community members in response to Black Lives Matter activism and the social protests that defined the summer of 2020. The story of 2020's summer and this mural process have been documented in a documentary to ensure that the history is truthfully represented and not lost.
Designed in partnership with the community, artist Pablo Serrano installed this mural in the fall of 2021. Based on the history of Elgin and events of 2020 and influenced by the many community conversations and engagements held during the creation process, this mural serves as a constant reflection of who we are and a reminder of where we hope to be headed. This site, significant to Elgin's art history, has been reclaimed and rededicated to this purpose and direction.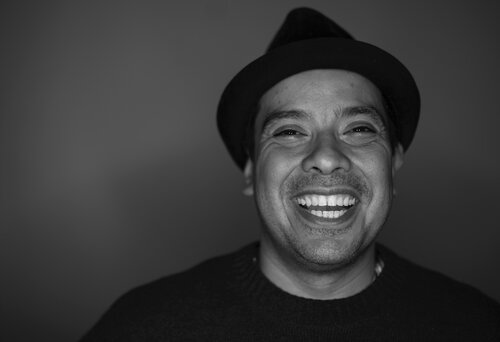 ARTIST STATEMENT about The Promise of Elgin
My name is Pablo Serrano and I am the artist responsible for the mural titled The Promise of Elgin , dedicated to the people of Elgin. I wanted to share what I've learned going through this cultural process alongside the Social Justice Collective that came together to launch the "Making Space" initiative to build on the activism against police brutality of 2020. Read the full artist statement.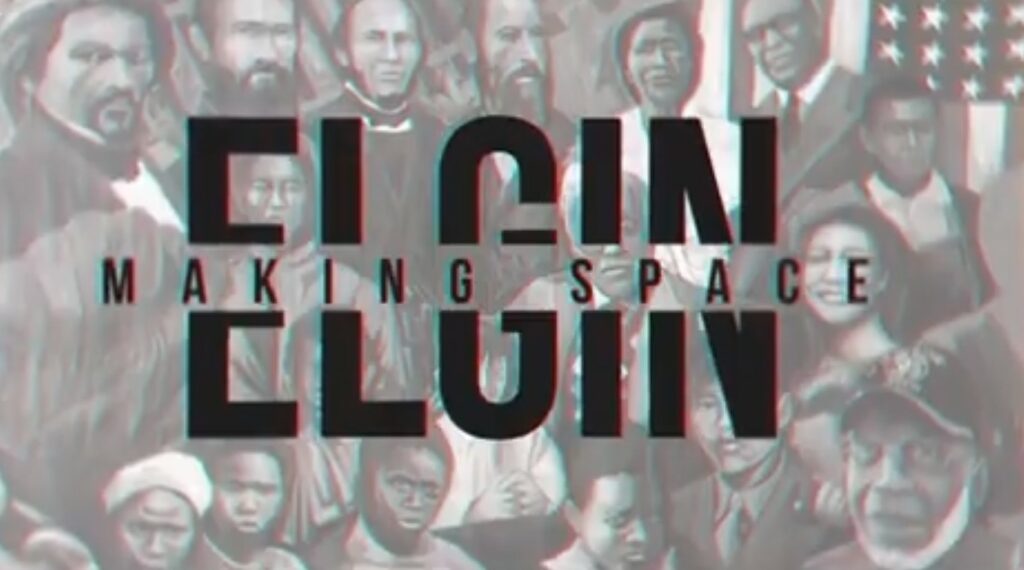 Following Black Lives Matter activism and the social protests that defined the summer of 2020, the Elgin community responded in its own way. There were peaceful protests. Community art was created. Productive conversations were had. And it all inspired the creation of a mural that was installed downtown. "Making Space" shares this unique moment in Elgin history.
Who are the People in the Mural?

The Promise of Elgin Mural Identification
Frederick Douglass – Well known anti-slavery advocate
during the Civil War. Spoke twice in Elgin.
Lt. Colonel John S. Wilcox – Celebrated Civil War veteran.
He helped organize the contraband train.
Reverend A. J. Joslyn – First Baptist Church of Elgin pastor.
Encouraged the contraband train bringing enslaved people to
Elgin.
Arthur and Peter Newsome – Civic-minded African
Americans helped people build houses in Elgin's Settlement
neighborhood.
Reverend Richard De Baptiste – First African American
pastor of Elgin's Second Baptist Church.
Mary Newsome Wheeler and Pete Hall – Mary was a two-
year-old on the Elgin contraband train. Pete is one of her sons.
Abram Smith and Thomas Shipp – Two young African
American men who were lynched in Marion, Indiana in 1930.
The famous photograph of the lynching was the subject of
Elgin's previous mural in this spot.
James Cameron – Nearly the third person lynched in Marion,
Indiana in 1930 along with Thomas Shipp and Abram Smith. He
survived to teach about the horrors of slavery in his Black
Holocaust Museum.
Sherman and Alberta Hunter – Represent later African
American arrivals to Elgin during the Great Migration in the
early 20 th century. Sherman Hunter was a Buffalo Soldier during
WWII. The family anchored the Fremont Street neighborhood.
There is a marker at their home on Fremont and Hill.
Ernie Broadnax, Richard Gilliam, Ron O'Neal – African
American men who devoted their lives to public service in
Elgin. Ronald O'Neal was Elgin's first Black principal. Ernie
Broadnax was a veteran who focused on educating children, and
Robert Gilliam was an educator and the longest serving Elgin
city councilperson and first Black city elected official.
George Floyd – While not an Elginite, George Floyd's death
sparked outrage and protests in Elgin.
Giana Floyd – George Floyd's daughter.
DeCynthia Clements – An Elginite who was killed in a tragic
police shooting in 2018.
Tyri Clements – DeCynthia Clement's son.
The Making Space Project would like to thank our partners: