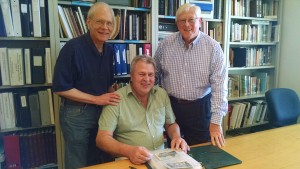 "Elgin 100 Years Ago" is an award-winning program featuring articles printed in Elgin's newspapers 100 years ago. The program is one minute vignettes that retell tales of city hall politics, police, sports, society news, and more. The segment airs between 12-1pm daily on the Studio 14 Mid-day show with Marky B. Studio 14 Mid-days also features other interesting daily segments like The Fox River Flow, Milestones and Memories, Discover Wisconsin, and finally, at 12:30, it's Tradio time, during which callers are welcome to call in and buy, sell, trade, and promo events that are happening around the area.
The program is prepared, researched and recorded by Elgin Area Historical Society members Rich Renner, Jerry Turnquist and Linda Rock.
You can listen online at http://www.wrmn1410.com or visit the WRMN Facebook page. Look for the "Listen Live!" link in the upper right. Listen on your smartphone using the WRMN 1410 app.
Listen to episodes here:
October 1

1:16

October 4

1:33

October 5

1:13

October 6

1:20

October 7

1:23

October 8

1:08

October 11

1:00

October 12

1:05

October 13

1:26

October 14

1:08

October 15

0:57

October 18

1:19

October 19

1:09

October 20

1:11

October 21

0:55

October 22

1:08

October 25

1:10

October 26

0:47

October 27

0:54

October 28

1:07

October 29

1:12
September 30

2:35

September 1

2:15

September 2

2:13

September 3

2:16

September 6

2:25

September 7

2:10

September 8

2:27

September 9

2:23

September 10

2:42

September 13

2:08

September 14

2:09

September 15

2:12

September 16

2:09

September 17

2:02

September 20

2:14

September 21

2:18

September 22

2:27

September 23

2:33

September 24

2:39

September 27

1:56

September 28

2:37

September 29

2:18
August 31

1:22

August 2

1:00

August 3

1:01

August 4

1:12

August 5

1:20

August 6

1:07

August 9

1:16

August 10

1:17

August 11

1:29

August 12

1:05

August 13

1:09

August 16

1:15

August 17

0:59

August 18

1:25

August 19

1:32

August 20

1:14

August 23

1:32

August 24

1:38

August 25

1:06

August 26

1:18

August 27

1:45

August 30

1:33
July 1

2:13

July 2

2:18

July 5

2:19

July 6

2:28

July 7

2:27

July 8

2:14

July 9

2:39

July 12

2:24

July 13

2:24

July 14

2:21

July 15

2:24

July 16

2:16

July 19

2:15

July 20

2:27

July 21

2:36

July 22

2:28

July 23

2:25

July 26

2:25

July 27

2:22

July 28

2:20

July 29

2:23

July 30

2:20
June 1

1:18

June 2

1:14

June 3

1:19

June 4

1:11

June 7

1:17

June 8

1:09

June 9

1:21

June 10

1:30

June 11

1:06

June 14

0:59

June 15

1:05

June 16

1:03

June 17

1:05

June 18

0:58

June 21

1:16

June 22

1:55

June 23

1:33

June 24

0:57

June 25

0:56

June 28

1:10

June 29

1:06

June 30

1:23
May 31

2:08

May 4

2:05

May 5

2:20

May 6

1:59

May 7

2:04

May 10

2:13

May 11

2:26

May 12

2:11

May 13

2:29

May 14

2:16

May 17

2:08

May 18

2:12

May 19

2:17

May 20

2:29

May 21

2:15

May 24

2:21

May 25

2:09

May 26

2:19

May 27

2:04

May 28

2:17
April 1

1:15

April 2

1:13

April 5

1:12

April 6

1:14

April 7

1:05

April 8

0:57

April 9

1:02

April 12

1:06

April 13

0:49

April 14

1:02

April 15

1:00

April 16

1:08

April 19

1:01

April 20

1:20

April 21

0:49

April 22

1:02

April 23

1:08

April 26

1:02

April 27

0:51

April 28

0:59

April 29

1:20

April 30

1:11
March 1

2:23

March 2

2:30

March 3

2:25

March 4

2:17

March 5

2:21

March 8

2:35

March 9

2:29

March 10

2:27

March 11

2:34

March 12

2:27

March 15

2:28

March 16

2:34

March 17

2:27

March 18

2:26

March 19

2:21

March 22

2:21

March 23

2:23

March 25

2:18

March 26

2:12

March 29

2:38

March 30

2:18

March 31

2:25
February 26

0:55

February 25

0:51

February 24

1:14

February 23

1:24

February 22

1:36

February 19

1:08

February 18

0:56

February 17

1:11

February 16

0:58

February 15

0:56

February 12

1:00

February 11

1:05

February 10

1:18

February 9

0:49

February 8

0:50

February 5

1:11

February 4

0:50

February 3

1:09

February 2

0:58

February 1

1:04