2021 Bluff City Cemetery Walk
2021 Bluff City Cemetery Walk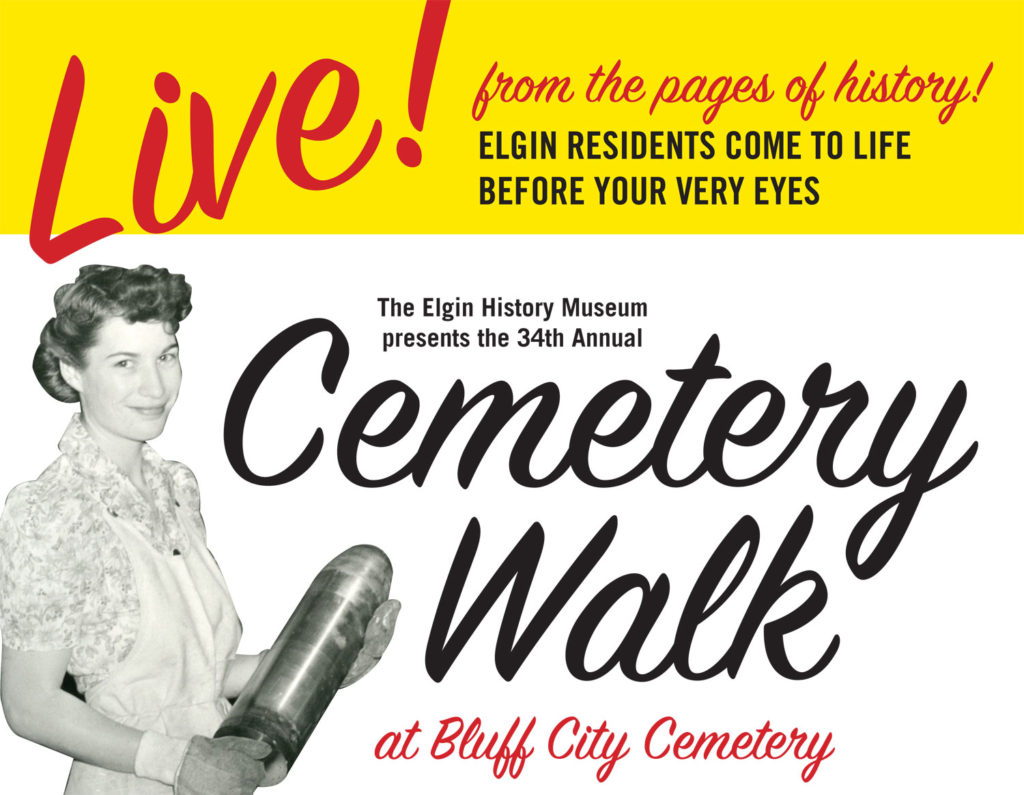 Excited to be back in 2021!
The Bluff City Cemetery Walk will be held in person on September 25 & 26, 2021, and because of the overwhelming support we received last year, there will be a virtual version of the event released on October 3, 2021. All of the actors and volunteers are incredibly excited to be able to perform live at beautiful Bluff City Cemetery this year! Please note that the Museum will continue to monitor the guidelines set forth by the CDC and State of Illinois in regards to the COVID pandemic and any updates will be noted on this page.
We have made some changes that are outlined below. Please sign up for our email list to get the most up to date announcements.
What is different this year?
This year, the Bluff City Cemetery Walk will have timed entry tickets rather than an open all-day ticket. On Saturday, for the first time ever, the walk is being offered as an evening performance at 4pm and 6pm. Sunday performances will start at 11am and 1pm. The Cemetery Walk team is excited about these changes because it will accommodate more visitors per day, there will be less wait time during the tour and we are also hoping to attract some new faces to the walk! There will be NO TICKETS AVAILABLE  at the door. Ticket price is $15.00. Buy tickets today!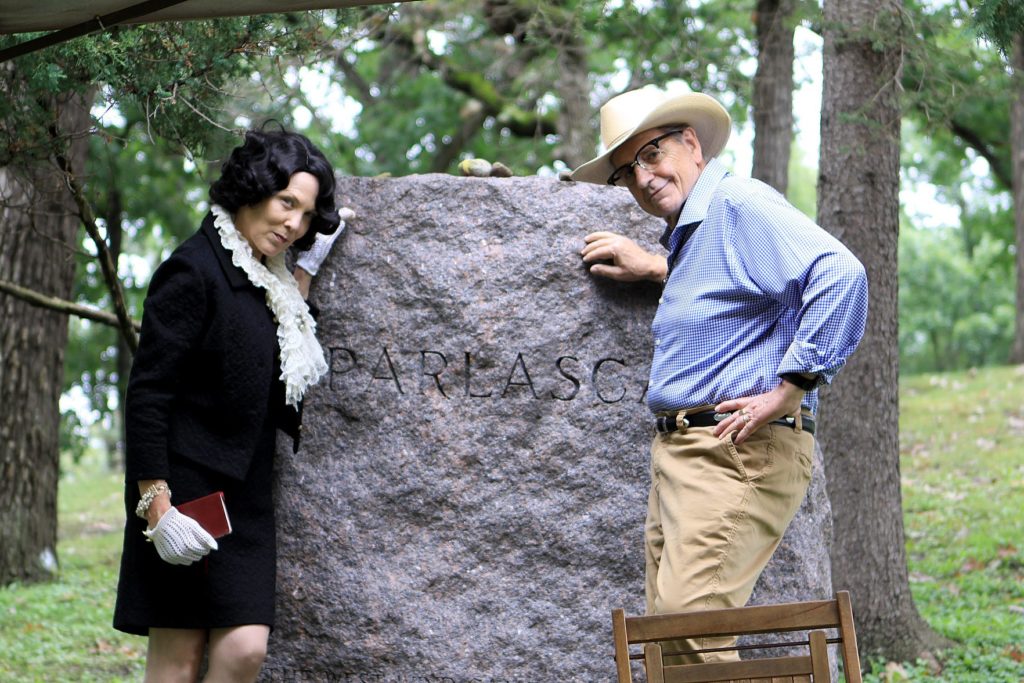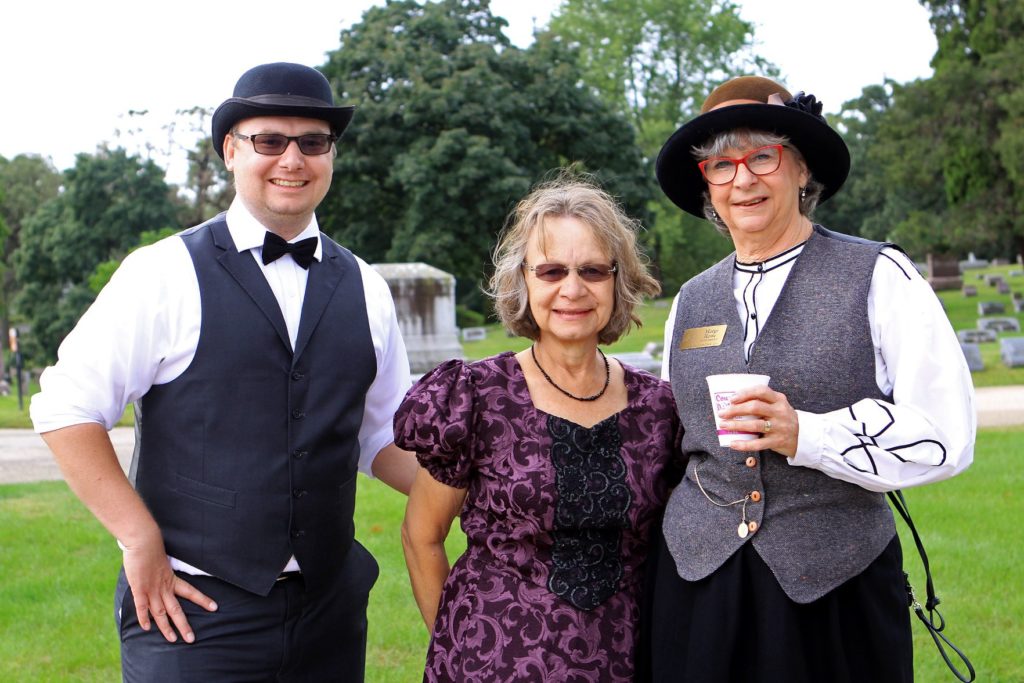 What is the same this year?
Visitors will be welcomed to the historic Bluff City Cemetery that has provided the final resting place for area residents since 1889. A guide leads visitors on a 70-minute tour that showcases gravesites of six former residents and one vignette, portrayed by actors in period costumes. PLEASE NOTE: This year's route is very uneven and has some steep grades. Please consider the virtual version of the walk if this type of terrain does not fit your needs. The virtual version will be available on October 3rd for a $15.00 fee. Parking will be available outside the cemetery gates – see the map.
What is the Bluff City Cemetery Walk?
The annual Bluff City Cemetery Walk in Elgin has been a tradition since 1987. It is organized by volunteers and staff of the Elgin History Museum. The event attracts hundreds of people to enjoy an outdoor theatrical performance and the beauty of the Bluff City Cemetery grounds. The event also seeks to educate people about Elgin's unique history and the importance of preserving cemeteries. Once you arrive, you will be assigned a group number and a guide that will lead your group to the first stop on the tour. At the gravesite, an actor in period costume will bring the person to life! Hear their story and the impact they had on the history of Elgin. The group will rotate to the next site on the walk to meet another past Elgin resident until all sites have been visited.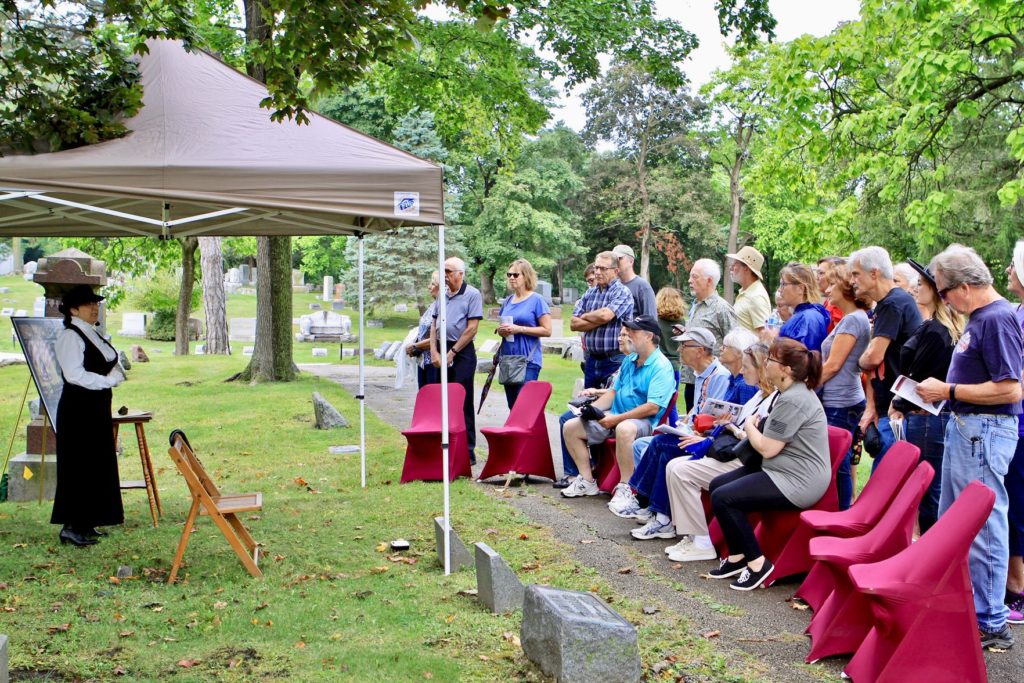 How do I buy tickets?
Click here to go to our ticket page. You will then choose the date and time you would like to attend. Once you purchase a ticket, you will receive an email confirmation for the sale. Your name will be added to the will call list at the gate, but please bring along a copy of the confirmation email. The Bluff City Cemetery Walk is a rain or shine event. No refunds will be given unless the entire event is canceled.
Virtual Cemetery Walk
The virtual version of the Bluff City Cemetery Walk will debut on October 3, 2021. Tickets are available here. Once you purchase this ticket, you will receive a confirmation email for your records. The link to the video will be sent out October 3, 2021, and the recording will be available for a month. You will be able to access the video on our YouTube channel, and watch it on your device of choice. BUY a ticket to the virtual tour TODAY!
Can I volunteer for the event?
YES! The Cemetery Walk is run solely by volunteers! There are many opportunities such as
Guides that lead groups around the cemetery
Set up and take down crews
Greeters and ticket takers
Please contact rgalfi@gmail.com for more information or sign up online.
Sponsorship
Because of the new format and extra day, we are expecting double the usual attendance! Make sure you don't miss out on this unique sponsorship opportunity. Click here to view the benefits and sponsor levels. Confirm your sponsorship by September 1, 2021.


Featured Character
Daniel Broadnax Sr.
Well-known Elgin resident, Daniel Broadnax Sr., came to Elgin in 1925 working 11 years at Saxe Shoe Rebuilders before opening his own shop at 450 Dundee Ave. He worked there until 1975, when he decided to retire after working in the shoe repair business for 50 years. He was a dedicated family man, active in the Second Baptist Church and a member of the Mount Moriah Masonic Lodge.
Ralph Elliott Abell
Well known architect in Elgin and Chicago. Designed many schools and public buildings. He graduated from the University of Illinois in 1904, continued his education at Cornell University and was awarded the Sands medal for excellence in design.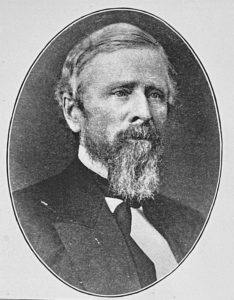 William Grosvenor Hubbard
Came to Elgin in 1843, worked as a merchant in a Chicago Street store, was responsible for bringing the first railroad to Elgin. He was a devout member of the Congregational Church and was opposed to slavery.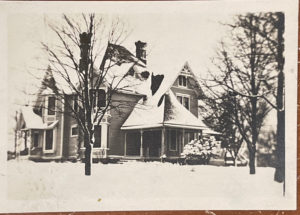 Eliza Ann Hadwen Lovell
Born in England in 1844, she came to Elgin in 1876 as the new bride of Vincent Lovell. They had a home built at 600 Margaret Place, which eventually became known as the original site of the Larkin Home. She opened her home to many homeless children, adopted many children of family members.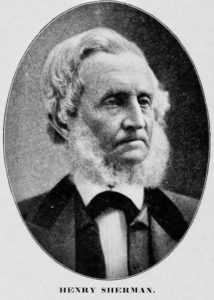 Henry Sherman
Arrived in Elgin with his family in 1838. Farmer and businessman, he donated land and a building for the first hospital in Elgin in 1888. This would be named Sherman Hospital.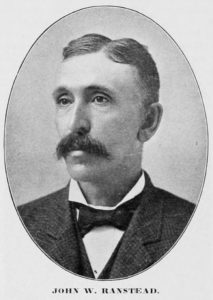 John West Ranstead
Attended Elgin Academy and served as a judge in Elgin for 19 years. His law office was on the second floor of the Ranstead building on the corner of Spring and DuPage streets.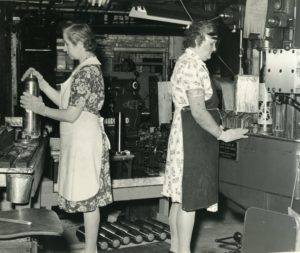 Elgin Women in WWII
Women entered the work force during WW II to join the war effort. Their mission was to assemble ships, tanks and airplanes on the home front. They did not think twice about heeding President Franklin Roosevelts call to build a "Great Arsenal of Democracy".