School & Group Programs
School & Group Programs
A visit to the Elgin History Museum offers a new perspective – whether making a watch in the Elgin factory, building a cobblestone house, or recreating the Road Race route, the Museum offers several educational programs for kids. The educational programs offer hands-on components and are tailored to be developmentally appropriate for groups of all ages and learning styles. The programs are designed with state learning standards in mind.
Programs can be scheduled on Wednesday and Friday from 9 a.m. – 4 p.m. Other times can be arranged.
Cost: Programs range from $3 to $7 per student, depending on length (1-2 hours) and accompanying activities. $50.00 minimum per program.
NOTES
Programs are tailored to particular groups and designed to complement state learning standards.
Museum staff will adjust to special learning units.
Payment is due the day of the program unless prior arrangements are made.
Reservations
Contact: Rebecca Miller, Museum Educator
Email: educator@elginhistory.org
Phone: 847.742.4248 – Message can be left on voicemail.
Tell us About Your Group
---
Available Programs
People on the Move
Learn about the immigrants and migrants that shaped Elgin's history from the City's founding to the turn of the 20th century. Discover the reasons for immigration and the unique features that mad Egin a destination for the waves of Irish, German, Contraband newcomers through pictures, maps and artifacts. Grade 7-Adult.
Water Ways
Elgin became the town it is because it was settled on the Fox River. Discover the characteristics of rivers, how people utilized the Fox, and how the Fox shaped Elgin. Hands-on activities demonstrate key ideas. Find water related landmarks on an 1865 map of Elgin and try water related chores to see how you would have survived in Early Elgin. 6th-12th.
Watch Works
Use the artifacts and exhibit of the Elgin National Watch Company to investigate history. Using artifact analysis, students will learn to think like a historian with an emphasis on primary and secondary sources. 6th-Adult.
Elgin History Tour / Scavenger Hunt
Time travel through our Museum and discover Elgin's unique history! The experience, suitable for all age groups, follows the history of Elgin through exhibits focused on five areas: Early Elgin, Elgin's Architectural Heritage, the Watch Factory, the Hiawatha Pageant, and Elgin Road Races. The experience becomes interactive when teams work together on a fun and challenging Scavenger Hunt.
Grand Tour
An extension of the Elgin History Tour, the Museum visit is enhanced with hands-on activities related to each of the five focus areas. Students are presented relevant concepts and get to perform the following activities:
Early Elgin – operate a model of a mill race
Architecture – construct a keystone arch
Watch Factory – handle watch company artifacts
Road Race – draw a map of the road race route
Hiawatha – contrast/compare, with an eco twist
Prairie Pioneers
Through the eyes of Harriet Gifford, wife of Elgin's founder, children experience travel to Elgin in 1835 and setting up a new home in the wilderness. Concepts include housing, transportation, household tools and prairie life in the 19th century. Finger weaving, cobblestone houses, and buttermaking are activities that accompany the Westward Expansion concepts.
Watch your Pocket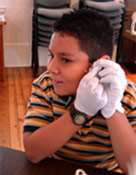 Travel back in time for a first day of work at the Elgin National Watch Factory. Children learn about the Company's worldwide status and have an orientation with the Supervisor; then head to the factory departments where students assemble prototype pocket watches! Work conditions, assembly line, and mass production are some key concepts.
Cobblestones to Cupolas
Take a walk through Elgin's oldest neighborhood and learn about the architectural styles represented in this old river town. Recognizing shape and form helps students become familiar with styles taken from other cultures like Egypt, Greece, and France. Learning the history of the people that lived in these houses helps connect students to their community. Back at the Museum, students explore use of building materials, draw various roofline types, and construct significant architectural features.
Great Grandma's Kitchen
Bake an apple tart with Great Grandma in her old-fashioned kitchen and learn about the tools she used. Discover the Elgin dairy industry and its connec

tion to the Gail Borden Public Library. At the end of the program, participants spread their homemade butter on crackers and enjoy the warm apple tarts!
Museum in a Box
If you can't bring your middle school students to the Museum, bring the Museum to your classes! The old trunks contain reproduction items relating to the Westward Movement or Industrial Revolution and serve to enhance study about those periods in history. Contact the Museum to reserve these unique resources for your classroom!
---
Additional Resources
Tailor-Made Programs
Other tailor-made programs can be designed at the special request of teachers. Some examples of special request programs are Elgin in the Progressive Era and Elgin's African American History. We are also happy to tailor an existing program to better suite your needs.
Outreach Programs
Some of our programs can be brought to you! Please inquire about specific programs.