Exhibits Overview
Exhibits Overview
Permanent Exhibits
The Museum has seven permanent exhibits that tell the rich history of our community. Visitors learn about the City's beginnings, the road race, the Elgin National Watch Factory as well as products that were once made in Elgin. View Museum Map (PDF).
Elgin: From River to Rails presents the founding of Elgin and the earliest settlers, including the Gifford family, builders of the first cabin in Elgin and considered the city's founders. This exhibit space spans two rooms that include the history of Elgin through the 1890's. There are many hands on activities for kids to explore these exhibits including loading the wagon, playing in the cabin and selling items in the grocery store!
Explore Elgin Architecture illustrates the many building and design styles still evident throughout Elgin, and identifies prominent Elgin architects.
Made In Elgin exhibit highlights many products that were manufactured in Elgin including Toastmaster, Elgin Street Sweeper, Elgin Dairy and more.
Elgin Road Races highlights the brief but colorful history of the Elgin Road Race, held first in Elgin in 1910. Children can get behind the wheel of a reproduction road race car or have their picture taken with Ralph Mulford, winner of the first road race held in 1910.
The Elgin National Watch Company room features a wall mural of the clock face that once graced the watch factory tower, original watchmaking tools from the factory, and many examples of Elgin watches, including the 13th watch produced on the famed assembly line.
Elgin: 20th century presents Elgin through 1970's. Visitors will learn about Elgin going dry before Prohibition, the devastation of the Palm Sunday Tornado and how Elginites stayed strong through the depression and WW2 to create an All American City in 1952.
Visitors with young children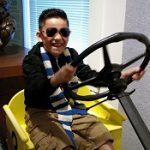 The more kids know about history, the more appreciation they have for their place in the community and in the world. The Elgin History Museum is a great place to foster engaged citizens! Exhibit spaces were built with little ones in mind. Anywhere you see a red hand that is your chance to explore, to touch, to experience. Ride in our model 1910 race car decked out with helmet and safety glasses. Set up shop in Kretchmer's grocery store – and don't forget to wrap all the packages for the customers. Riffle through trunks of early Elgin immigrants. Listen to the Song of Elgin. Blast the car horns of the past. Don't forget to ask the Museum docent for a scavenger hunt when you visit. Have fun bringing history to life through experiences!
Traveling exhibits that are available for display are Project 231, City Planning In Elgin and The Jewish Experience in Elgin. Please note these exhibits are currently not on display in the museum. If you are interested in any of these exhibits traveling to your area please contact the Museum Director, Elizabeth Marston for more information.