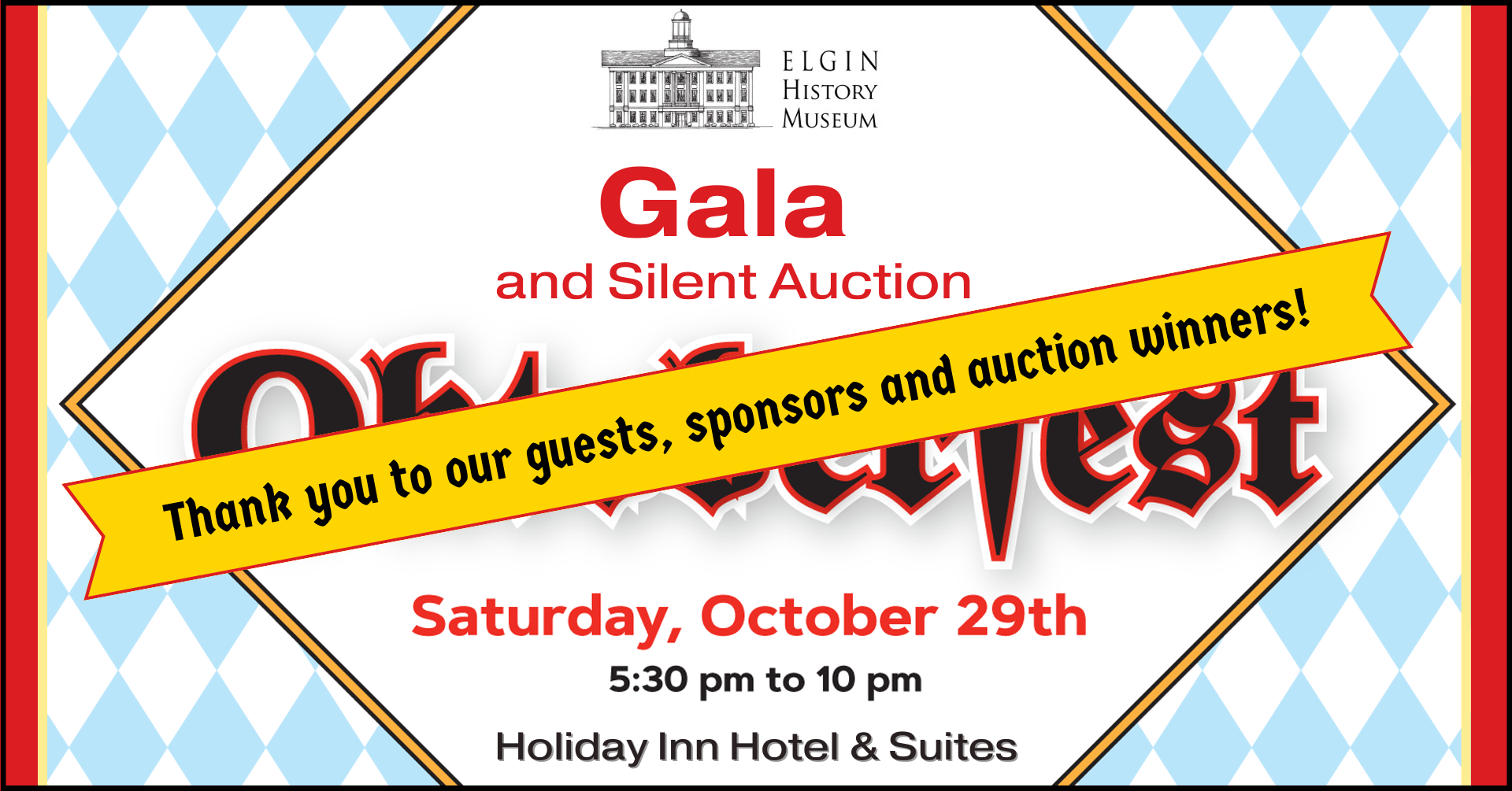 Thank you to our Elgin Experience Donors!
Steve Thoren & Maureen McWaid
Wing Mansion
Personal tour of Wing Mansion! Then take a ride in a Model T Ford.
Dennis Roxworthy
Toy Story
Tour a vintage toy and bicycle collection – you might get a peek at full-size vintage cars!
Rebecca Hunter
This Old House
House research with historian Rebecca Hunter.
.
Jerry Turnquist
History Guy for Hire
Private program or tour with historian Jerry Turnquist.
Linda Rock
History Happenings
Elgin history from a woman's point of view with Linda Rock.
Krisilee Murphy
Dinner in a Historic Home
Krisilee Murphy prepares dinner at the Nancy Kimball Cobblestone House.
Silent Auction Donors
Business Donors
Ace Hardware
Al's Café
Ala Carte Entertainment
Arabica Cafe
Binny's
Bowes Creek Country Club
Cabela's
Café Roma
Claim Jumpers
Downtown Neighborhood Association of Elgin
Elgin Public House
Grahams Fine Chocolates
Grumpy Goat
JC Licht
Klein's Fruit & Vegetables
Larkin Liquor Store
Lettuce Entertain You
Lou Malnati's
Panera Bread
Paul's Family Restaurant
Platt Hill Nursery
Ream's Meat Market
Randall's Pancake House
Spa Blue
The Little Traveler
Village Squire
WalMart
Individual Donors
Jim & Sara Ellen Anderson
Dwight & Betsy Armistead
Ken & Jerri Barnhart
Bill Briska & Fran Cella
Mark & Kaye Clemens
Rita Corbett
Barry & Andrea Danielson
John & Ana Devine
Rudy & Lillian Galfi
Laurel & Ivo Garza
Jeff & Tricia Grosser
Ricky Harris
Rebecca Hunter
Paul Larson
Anne LoCascio & Bill Schmidt
Holly Mack
John & Liz Marston
Dennis & Sandi McClure
Dale Moorhouse
Mike & Krisilee Murphy
Linda Rock
Dennis & Laurie Roxworthy
Rachel Neville
Laura Stroud
Chandler Swan
Steve Thoren & Maureen McWaid
Jim Turner
Jerry Turnquist
Jackie Vossler & Rich Renner
Al & Kathy Walters
Sponsors
Champagne Level
City of Elgin
Terry & Sue Gable
Laurel & Ivo Garza
Anne LoCascio & Bill Schmidt
Al & Kathy Walters
Red Wine Level
Bill Briska & Fran Cella
Tish Calhamer
Rudy & Lillian Galfi
John Regan
Dennis & Laurie Roxworthy
Jerry Turnquist & Valerie Barton
White Wine Level
Marianne Bost
Mary Ellen Flacks
Mary & Tom Kemerling
Ira & Jackie Marcus
Sandi & Dennis McClure
Steve & Betty Rauschenberger
Linda Rock & Jeff White
Marge & George Rowe
Beer Level
Rita Corbett
Kevin O'Connor
Lorece Smith